Before Brad Gillis stepped in as Ozzy Osbourne's guitarist during the Diary of a Madman tour,... there was Bernie Tormé. Bernie started with Ozzy Osbourne's band on April 1st, 1982 in Bethlehem, Pennsylvania,... and was gone by April 13th, 1982, when Brad Gillis played his first show with the band in Binghamton, New York. Just about two weeks, which is probably why there was never much press about him during that time. About all I've been able to find about Bernie Tormé during his "Ozzy days" were a few small articles:
"Following the tragic death of Randy Rhoads in March of 1982, Ozzy spent a difficult period sifting through hard-rock guitarists trying to find someone who could fill Rhoads' shoes. First, he tried Bernie Tormé, a respected guitarist whose work with former Deep Purple vocalist Ian Gillan had been widely hailed by the English press. "I can't imagine a more difficult spot to step into than to try to replace Randy. Bernie Tormé tried for a while and so did Brad Gillis", Ozzy said. "I'm very thankful for Bernie's help, when Randy died I tried to contact every guitarist in the world and the only guy who was willing to step in was Bernie. He played with us for a couple of weeks, and every night he played like a f*ckin' star. But we all knew that his position was temporary. He had put together a band of his own (the Electric Gypsies) in England, and we knew that he'd want to return to that fairly soon."

BERNIE BINS BLIZZARD - Ozzy Osbourne's tour trials and tribulations continued last weeks when replacement guitarist Bernie Tormé, who'd flown over to fill in for the late Randy Rhoads, ducked out after seven gigs. On his arrival back in England, Tormé said "I was glad to help Ozzy and his band and was very flattered that I was asked to stand in but I found the emotional pressure on the tour was too much and I really couldn't continue. Ozzy and the rest of the band were very helpful and kind but they were obviously devestated by the tragedy. I told Ozzy my reasons for leaving and he understood totally. I hope we have the chance to play together under happier circumstances." In order to fill the gap left by Bernie's departure, Ozzy has recruited Tygers of Pan Tang guitarist John Sykes. The Tygers have recruited ex-Penetration guitarist Fred Purser to fill in during Sykes' absence. Bernie Tormé has rejoined his own band Electric Gypsies and will be going out on the road in June.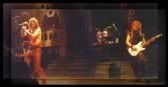 "I phoned every rock star in the world and Bernie was the only one who said: Yeah, I can do it. He's a great guy and I wouldn't have done what he did for the world. He's a good guitarist but it's a big thing to be thrown in at the deep end and he couldn't really cope."
"After Randy's death, Bernie Tormé filled in. He used to be Ian Gillan's guitar player. Gillan joined Sabbath and Bernie joined me for the tour. He couldn't cut the gig. Moving from night clubs to 20,000 seaters freaked him out. But it was necessary for me to get out there. At that point I was so distraught over the loss of Randy that I thought if I didn't get back on the boards I'd never get up there again. I was desperate. I said even if we don't have a guitar player I've got to do a gig. I didn't care because everybody was walking around in shock. It took a year for it to fully take it's impact on me."
...and then there's what Bernie had to say about those articles:
"I'm not sure that I agree quite 100% with all the quotes... I didn't come from nightclubs to Ozzy, we (Gillan) were as big if not bigger than Ozzy in Europe at that time: there ain't many 20,000 seaters in Europe, but we had done plenty of bigger open air stuff, so that is well, not really true. Also, quite a few other people auditioned prior to my standing in. I had to go through an audition for 2 days in L.A. with four other guitarists, which, shall I say, was not what I was expecting, and not what I had been told by Ozzy's UK management! In the last few days when I told Ozzy that I did not want to carry on, a few other people, including Brad, were auditioned at soundchecks while I did the gigs. So there were quite a lot of people who wanted to jump in. I was not really the only choice, or all that brave. But if it hadn't been so tragic, I could honestly say it was a great experience. And Ozzy is a great guy. I hope to have some more on my page about that soon, it's a narrow line, you know, I don't want to piss anyone off, but the truth is not really what has been printed in the mags. A lot of people (not Ozzy) had a bit of a problem with the fact that I did not want to do the gig: they all provided their own reasons, which were not really my reasons!"
-Bernie Tormé
Bernie Tormé with Ozzy Osbourne:
April 1st - Stabler Arena, Bethlehem, PA
April 2nd - Boston Garden, Boston, MA
April 3rd - Coliseum, New Haven, CT
April 5th - Madison Square Garden, New York, NY
April 6th - Civic Center, Providence, RI
April 7th - Cumberland County Civic Center, Portland, ME
April 9th - Memorial Auditorium, Buffalo, NY
April 10th - War Memorial, Rochester, NY
April 11th - Civic Center, Glens Falls, NY (CANCELLED)
4.13.82 - Broome County Arena, Binghamton, NY
The Bernie Daze CD Bootleg is with
Brad Gillis
, not Bernie Tormé on guitar.
April 2nd, 1982
Boston Garden, Boston, Massachusetts
The only animal you'll ever see on stage is Ozzy Osbourne as quoted Wednesday by his fiancé Sharon Arden regarding the rumors of animal killing during his concerts. True enough if metaphors count, however, Ozzy Osbourne is a dinosaur. He's a survivor of the heavy metal wars of the 70's - when he sang for Black Sabbath - and he's become a heavy metal kingpin of the 80's. The sound, though perhaps a bit more pop-oriented, remains basically the same - riddled with tired arena rock clichés and knee-jerk bombast and bluster. At the beginning of the sellout concert, the black curtain raised, Osbourne, dressed in tight purple clothing and a silver codpiece, seated on a throne and holding a large black cross, got up and descended a stairway to center stage. Three cathedral arches loomed behind him. Gothic setting, intimidations of horror. And the lumbering heavy metal riffing began. The irony - after all the brouhaha surrounding this appearance - is that Osbourne plays a leaden, static concert that is far closer to stupefaction than it is confrontation or excitement. He does dabble in occult imagery; his record album jackets project a quasidemoniac character; he is supposed to be a maniac madman. In concert, Osbourne is simply high priest of the heavy metal cliché. There's lots of volume; there's little action. Osbourne, who bit into a dead bat in Des Moines, Iowa, last January, did not bite into anything tossed on stage last night. The articles of clothing sailed on by; he passed on the rubber bat; he eyed the M80 as it whizzed by, watched it explode, thought about his reaction for a second and yelled, "Okay!" Osbourne hunches over slightly, a benign Quasimodo, clapping his hands, flashing the peace sign, smiling, telling us "We love you," and yowling his vocals, which were obfuscated by the wretched mix. The set summary: New guitarist Bernie Tormé (replacing Randy Rhoads, who died in a plane crash two weeks ago) began his screech-and-feedback guitar solo at 9:46 during "Suicide Solution" and finished at 9:50. Drummer Tommy Aldridge began his bang-bang and crash solo at 9:51 and finished at 9:54. Osbourne sang "Crazy Train," a juggernaut of loud tedium. He sang "Goodbye to Romance," a semi-light song where a new keyboardist Don Airey added a touch of sweetness to the usual sledgehammer pounding. As the show neared its end, the band played "Believer," a cement mixer of plodding rhythm and no-end guitar, and moved into "Flying High Again," where Osbourne yowled about mama worrying because he's a bad boy. It was then time for the Black Sabbath medley, "Iron Man"/"Children of the Grave," where Osbourne sang The Pertinent Question for the Evening: "Is he alive or dead?/ Has he a thought within his head?" Osbourne and company encored with Sabbath's biggest hit, "Paranoid," where the singer yowled, "People think I'm insane" as his four henchmen churned out the thick slabs of metal chords. Fists waved furiously in the air. As nostalgia pieces go, it wasn't half bad. The funny thing is, in the new, fast league of heavy metal, Osbourne is a tame holdover who writes songs that fit into the FM rock structure. He lacks the drive and power of bands such as AC/DC, Iron Maiden, Motorhead, or a new act (at the Paradise later this month) Girls' School. But Osbourne's no trouble to anyone, just another heavy metal geezer playing his trade. UFO, a band that plays with the finesse of grizzly bears, opened, had nothing clever to say and played fuzzy variations of mainstream hard rock. All members pose a lot, sticking guitars and mikestands up in the air, looking for drama amidst sludge.